Tagliatelle with bolognese sauce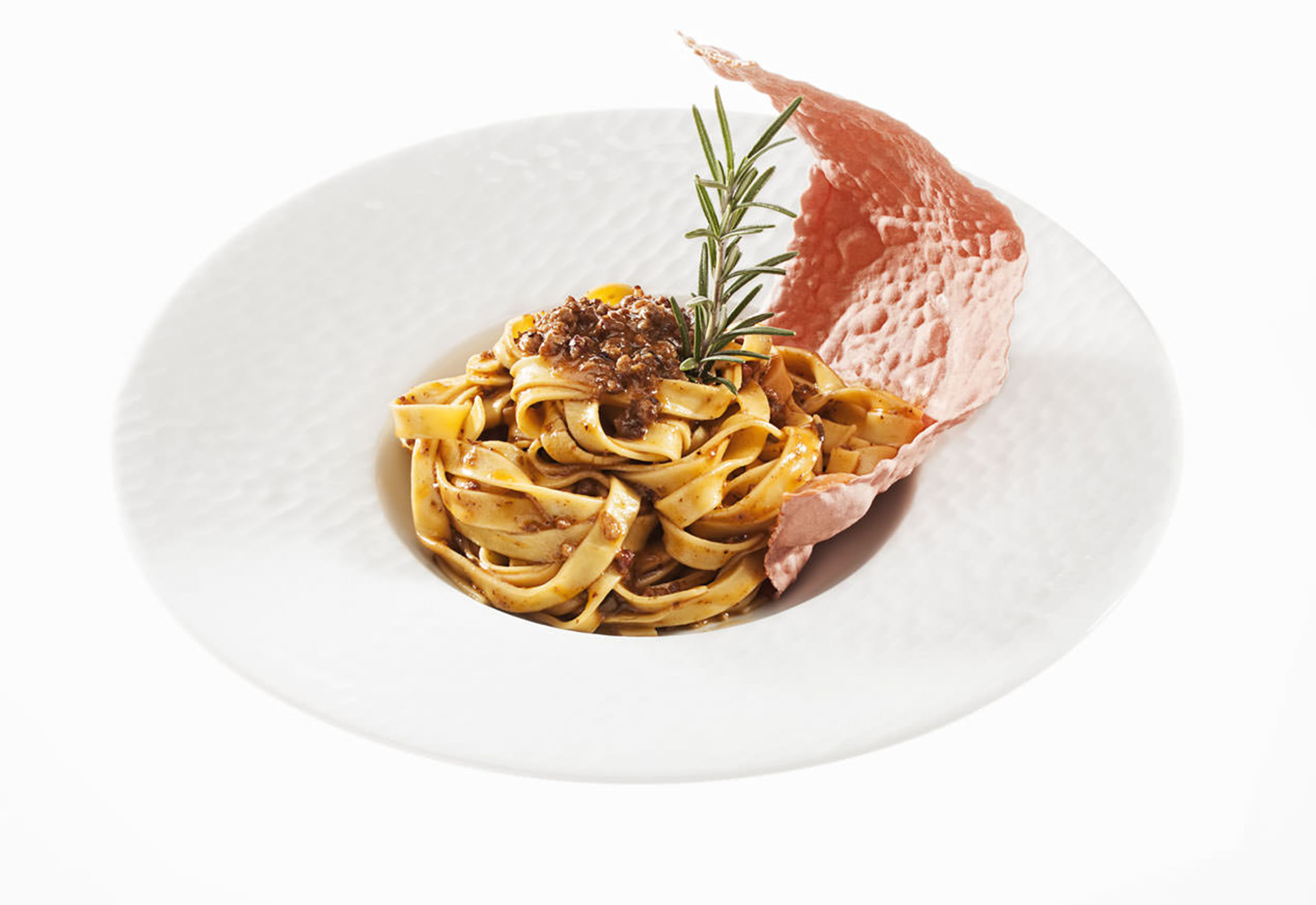 Ingredients (serves 4)
For the bolognese sauce:
500 g of veal (thigh)
150 g of luncheon meats (cheek lard, prosciutto etc.) 50 g of onion
50 g of celery
50 g of carrot
100 g of brown bones sauce
10 g of dried mushrooms
50 ml of red Cabernet wine
50 g of double concentrated tomato paste
50 ml of extra virgin olive oil
10 g brown bones sauce
salt
pepper
Procedure
Prepare the bolognese sauce: peel the onion and the carrot and trim the celery stick, then chop all the vegetables nely. Heat the oil and the butter in a casserole. When the butter becomes bubbly, add the chopped vegetables and let them cook down. Add the luncheon meats, after having ground them twice (if you don't have a meat grinder, use a blender), add the tomato paste and turn off the heat.
Let it rest for 5 minutes.
Divide the veal into ve 100g-pieces. Heat a non-stick pan, lightly drizzled with oil, and brown the meat, one piece at a time, over high heat for
a few minutes. When the meat develops color, place it in the casserole with the vegetables. Once all the pieces of meat have browned, put the casserole back over the heat, drizzle the red wine over it and let the alcohol cook out. Pour 300 ml of water into a small saucepan, add the dried mushrooms and heat on the stove. Bring the water to a boil, then drain the mushrooms (keeping the cooking water aside), squeeze them, mince them and add them to the sauce, along with the beef stock.
Pour the mushrooms' cooking water into the sauce and cook for about 45 minutes. When it's nearly done, season with salt and pepper. Cook the tagliatelle in plenty of boiling salted water for about 3 minutes, then drain them, dress them with the bolognese sauce and serve nice and hot.