Seared pike with pumpkin and scorzone of bellagio truffle cream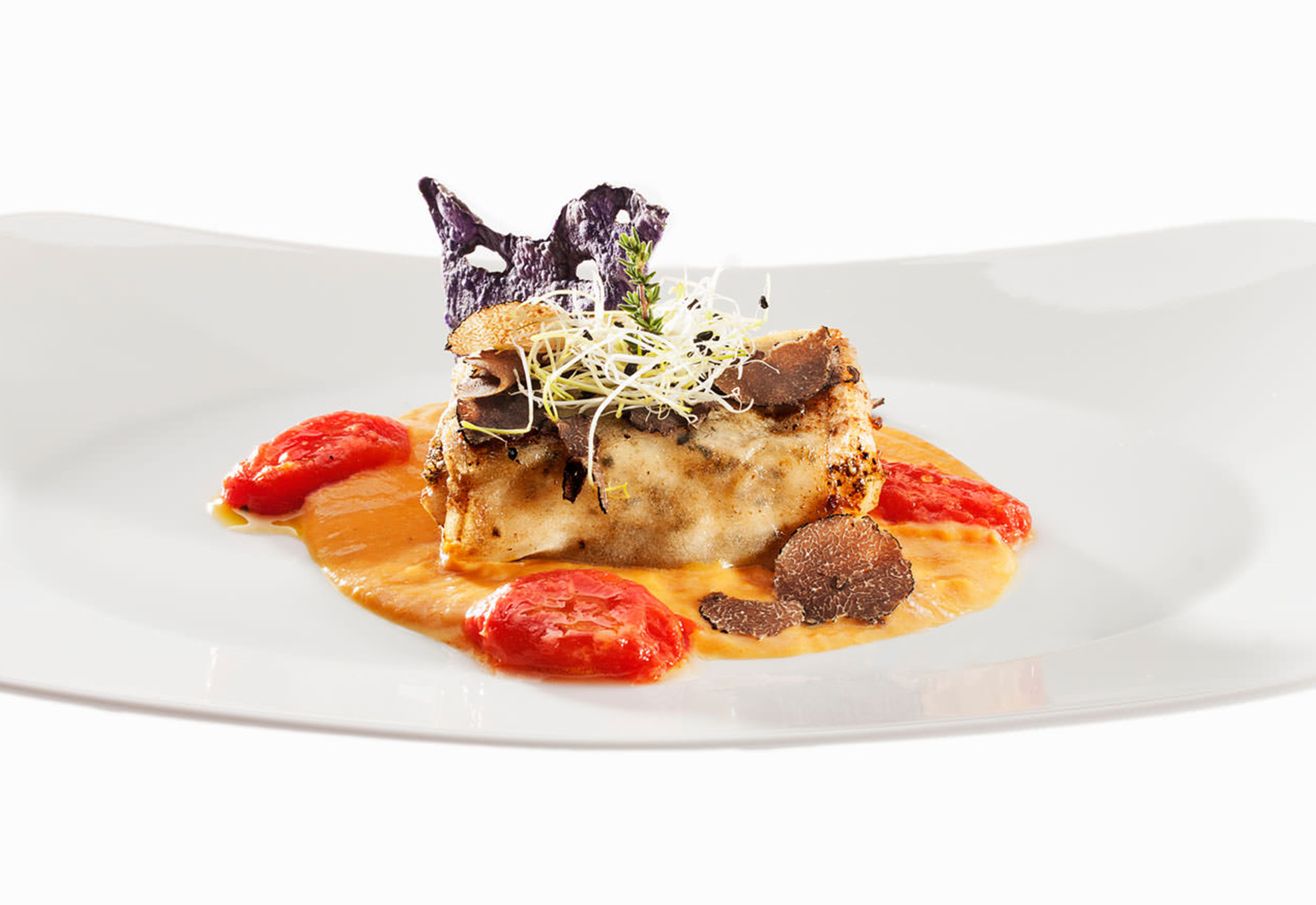 Ingredients (serves 6)
1 perch weighing 1.8 kg
fresh thyme
1 Scorzone of Bellagio truf e
1 whole pumpkin weighing 500 g 500 g of yellow- eshed potatoes 80 g of butter
18 dried tomatoes
50 g of fresh cream
vegetable stock
80 g of extra virgin olive oil
salt
freshly ground pepper
Procedure
Prepare the pumpkin cream: cook the whole pumpkin in the oven at 150°C for about 2 hours, without removing the seeds.
Once it's cooked, take it out of the oven, remove the seeds and the skin and put the pulp in a casserole with the cream, a pinch of salt, a dash of freshly ground pepper and little bit of oil. You may add a few tablespoons of vegetable stock, if necessary, then let it cook until you get a smooth and even cream. (The pumpkin falls apart by itself.)
Wash and peel the potatoes, then cut them into paper-thin slices with the appropriate cutting tool. (Otherwise slice them very thin using a normal cutter or mandolin slicer.) Soak the potato thins in cold water. Fillet the perch and divide it into 6 portions having more or less the same weight. Marinate the sh in some oil, a pinch of salt, some pepper, and a few sprigs of fresh thyme for 15 minutes at room temperature.
After the sh has marinated, wrap each portion in the potato thins. (If the potato slices aren't thin enough, arrange them on some parchment paper, slightly overlapping, then place the sh pieces on them and wrap them up using the parchment paper to help you.) Sear the sh in a non-stick pan with some oil and a little butter for about 2 minutes, turning it over very carefully to keep it from falling apart. Then place the pan in the oven, preheated to 180°C, for about 10 minutes.
Plate: spread the pumpkin cream on the dish, place the sh wrapped in the potato slices on it, sprinkle some fresh thyme and finish off with a few extra ne slices of Scorzone of Bellagio truffle e and 3 dried tomatoes per dish.
Wine
In this case, the delicacy of the sh and the sweetness of the pumpkin require a wine having good acidity and full avor, but not excessively fragrant, such as Sylvaner dell'Alto Adige.