Risotto with asparagus and saffron pistils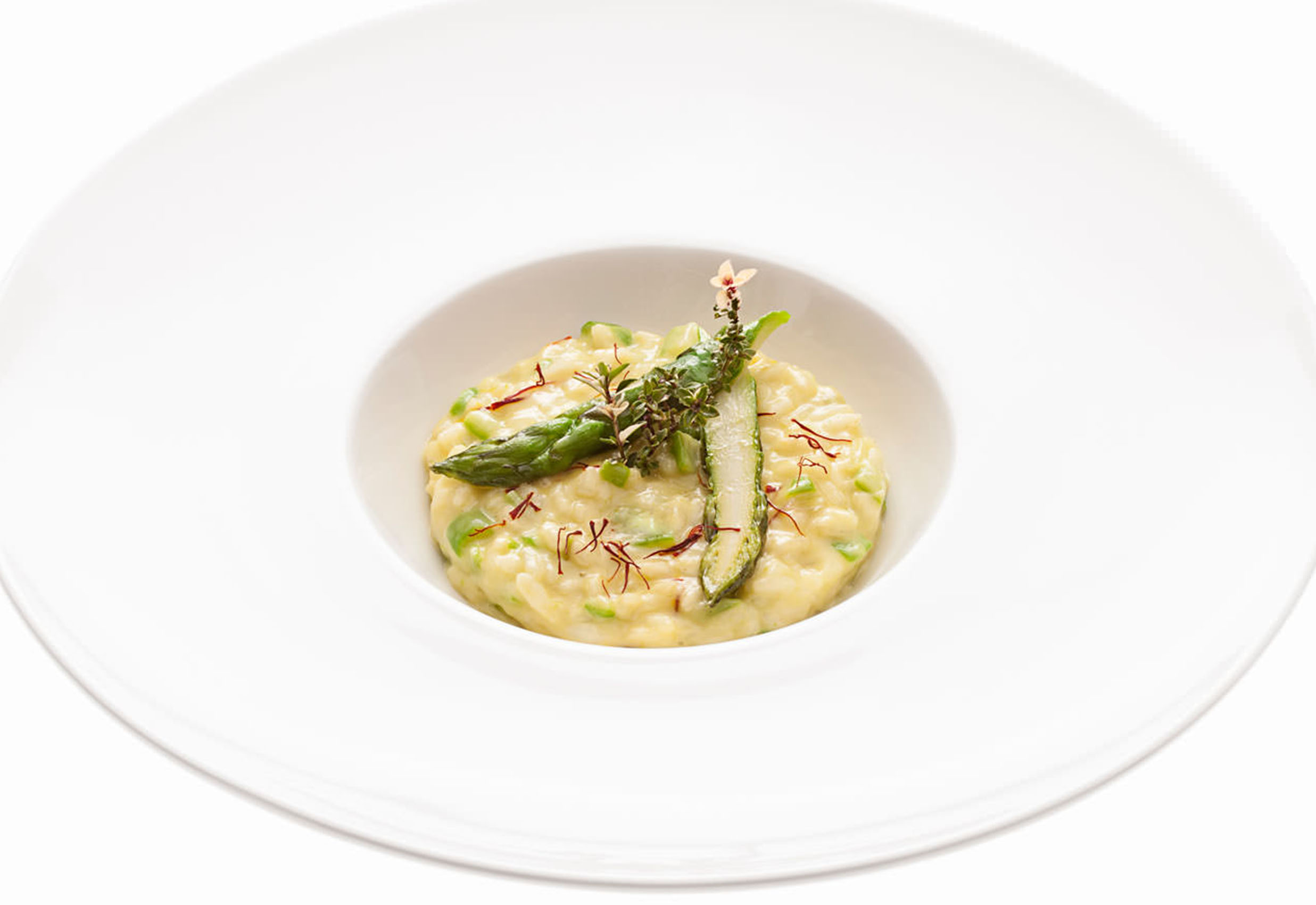 Ingredients (serves 1)
70 g of Carnaroli rice
20 ml of white wine
50 g of green asparagus
1 scallion
250 ml of asparagus stock
30 g of grated Parmesan cheese 10 saffron pistils
30 g of butter
20 ml of extra virgin olive oil
salt
pepper
Procedure
Prepare the asparagus stock: wash and trim the asparagus, eliminating the tougher end of the stems.
Put the discarded parts in a casserole, add 1 liter of non-salted water and bring to a boil. Cook
for 30 minutes and, only in the end, add salt to taste.
Prepare the risotto: peel the scallion, remove the tougher outermost layers and chop it nely. Heat the oil and 10 g of butter in
a casserole. When the butter is melted and bubbly, add the scallion and let it cook down for a short time. In the meantime, dice the trimmed asparagus stems and keep the tips aside. Add the diced asparagus to the scallion and let it develop color. Add the rice and the saffron pistils, let the rice toast for about 1 minute. Then pour in the white wine and, while stirring, let the alcohol cook out before adding a ladle
of asparagus stock. Keep stirring and let the risotto cook for 15 minutes over medium heat, adding more stock when it starts to dry out. 5 minutes before the rice is ready, toss the asparagus tips in boiling water and, once they are cooked, drain them and dress them with oil, salt, and pepper.
Once the risotto is ready, take it off the stove, add the remaining butter, the grated Parmesan cheese, a pinch of salt, then sprinkle with pepper and drizzle with a little extra virgin olive oil.
Let it sit for 5 minutes, allowing the cheese and butter to melt and give the risotto its creamy texture.
Plate the dish: put the risotto on a plate and garnish it with the dressed asparagus tips.