Red berry custard au gratin with exotic infusion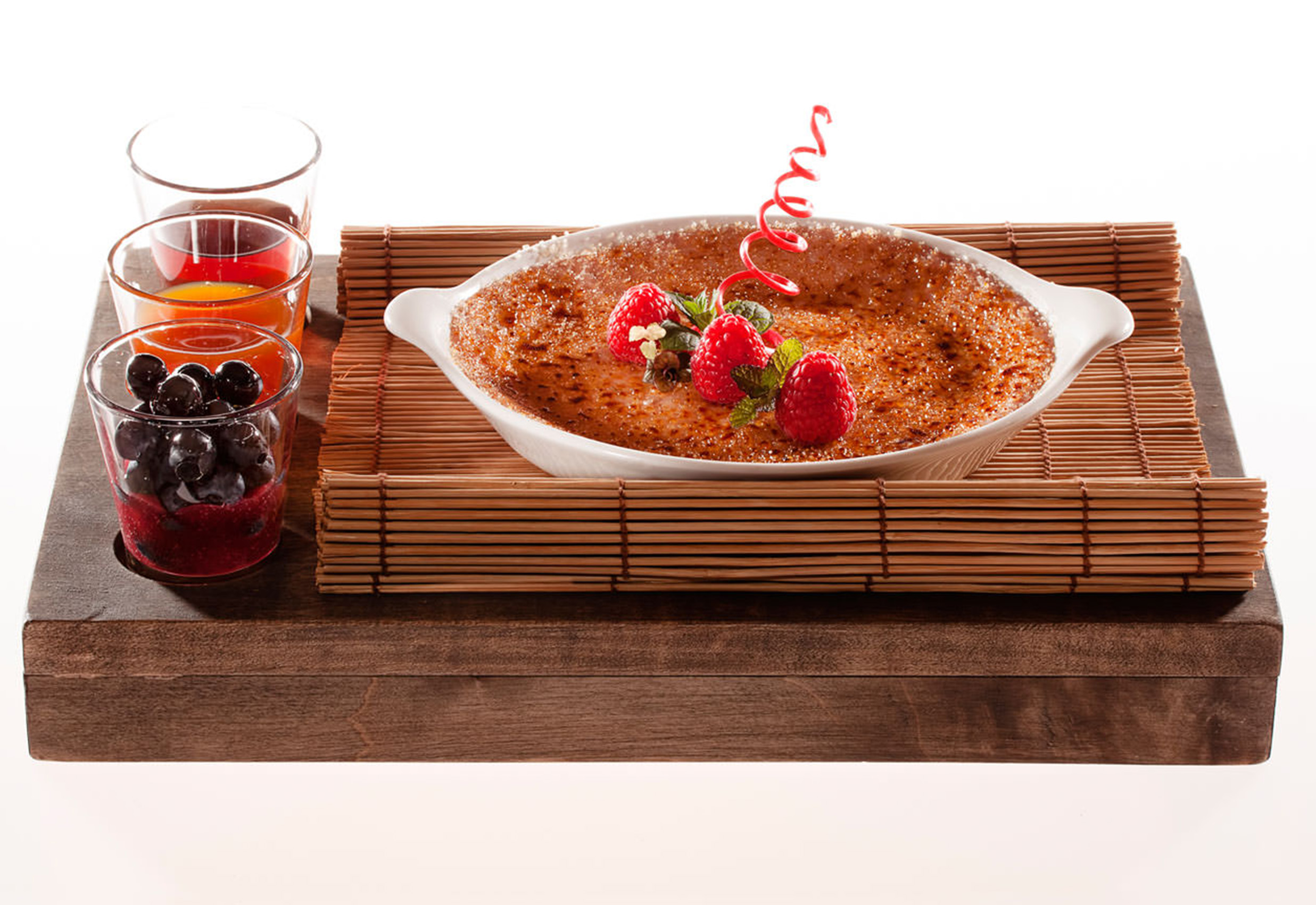 Ingredients (serves 4)
For the red berry custard:
3 eggs
6 egg yolks
150 g of granulated sugar 600 ml of 35% double cream 150 g of red currants
200 g of raspberries
200 g of strawberries
150 g of brown sugar for the crust
For the infusion:
warm water
granulated sugar
mango and red berry tea bags
For the garnishing:
50 g of blueberries
3 passion fruits
Mint leaves
Coconut (a few small thin slices) 6 currant twigs
Procedure
Prepare the custard: pour the cream in a small saucepan, add the carefully washed red berries and heat on the stove. Bring the temperature to 65°C, then turn off the heat and let the mixture rest for 5 minutes before blending it with an immersion blender. Pour the mixture through a china cap into 6 small crème brûlée molds. Bake the custard in a bain-marie in the oven at 120°C for about 20 minutes. Once it has cooked, let it cool completely before sprinkling the brown sugar on top and igniting it with the kitchen lighter to create the traditional crust. If you don't have a kitchen torch, put the molds back in the oven under the grill at 180°C for 5 minutes.
Prepare the infusion: heat the water without bringing it to a boil, then take it off the stove, put it in the tea bags and let it infuse for 15 minutes.
Plate: serve the red berry custard au gratin directly in the mold, along with a cup of the exotic infusion. Garnish the plate with the washed red berries, the passion fruits, a few mint leaves and the coconut slices.
Wine
The characteristic aromatic notes of the berries will find a good ally in Moscato Rosa Passito, which is also better at cleansing the palate without being excessively acid.