Rack of pré salé lamb in herb crust with mustard a lancienne and balsamic sauce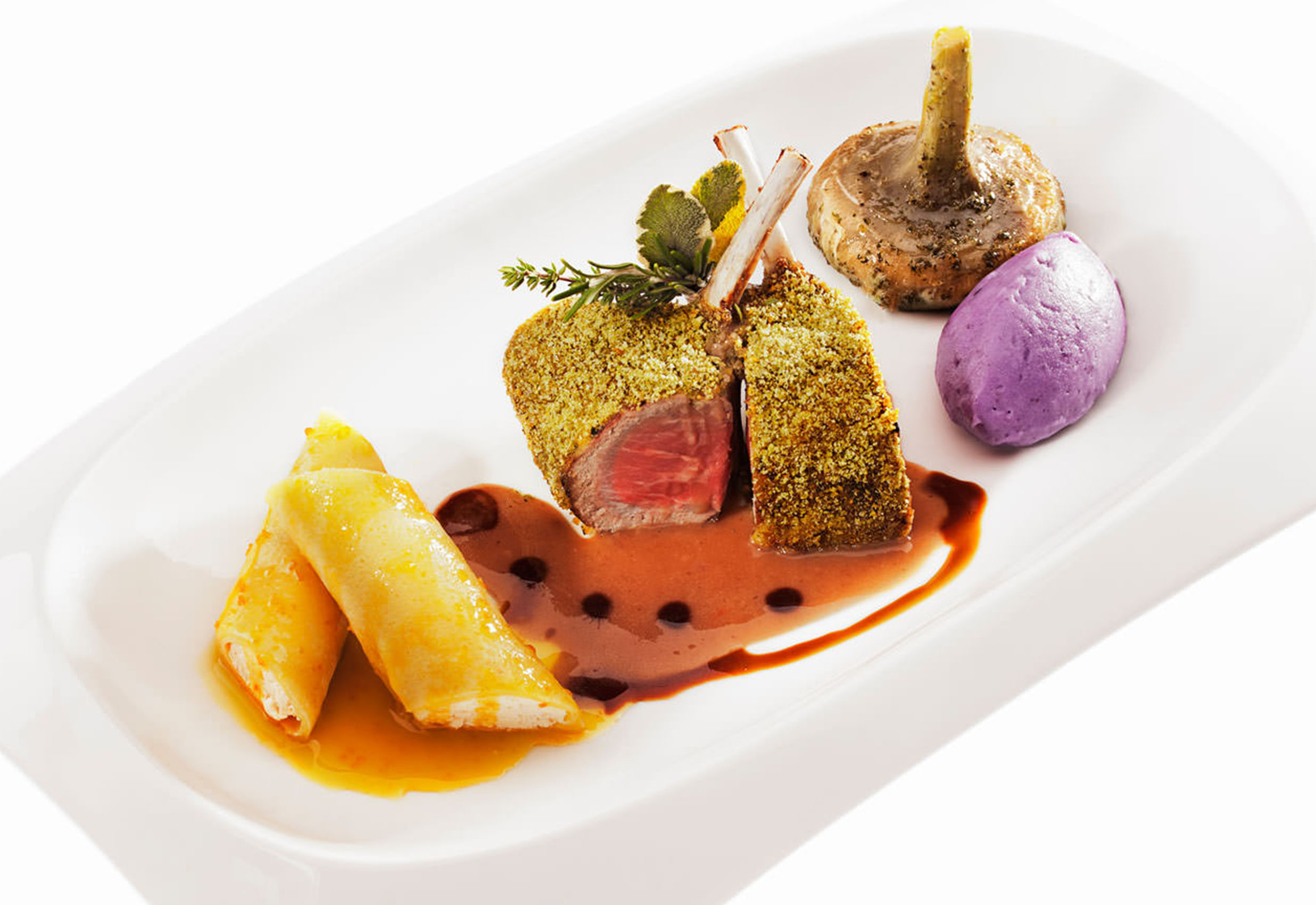 Ingredients (serves 1)
For the lamb:
Rack of pré salé lamb weighing 250 g
10 g of rustic mustard à l'ancienne
80 ml of balsamic sauce
salt and pepper
For the aromatic bread:
200 g of bread
40 g of mixed aromatic herbs (thyme, santoreggia, nepitella, mint)
20 g of parsley
For the crespelle:
1 egg
30gof our
100 ml of whole milk
2 Sicilian red oranges
50 g of buffalo ricotta
4 sprigs of thyme
10 g of butter
5 g of brown sugar
For the side dish:
100 ml of vegetable stock 150 g of purple potatoes
50 g of burrata
1 artichoke
10 ml of extra virgin olive oil 20 g of butter
1 slice of bacon
1 bunch of thyme
20 ml of dry white wine
Procedure
For the aromatic crust: shred the bread into small pieces and put them in a blender with the mixed herbs (previously washed). Blend until you get aromatic bread crumbs. Clean the lamb rack very well, scraping the bones and eliminating the fat, then dress it with oil, salt, and a dash of pepper. Brush oil all over the meat, then sear it in an anti-stick pan, lightly greased and already hot, turning it over so that it develops color evenly and seals. When this is done, let it rest for 5 minutes, then brush it with some mustard and cover it up with the aromatic bread crumbs, pressing them well to keep them in place. Put the lamb rack on a small baking sheet and cook it in the oven at 185°C for 10 minutes.