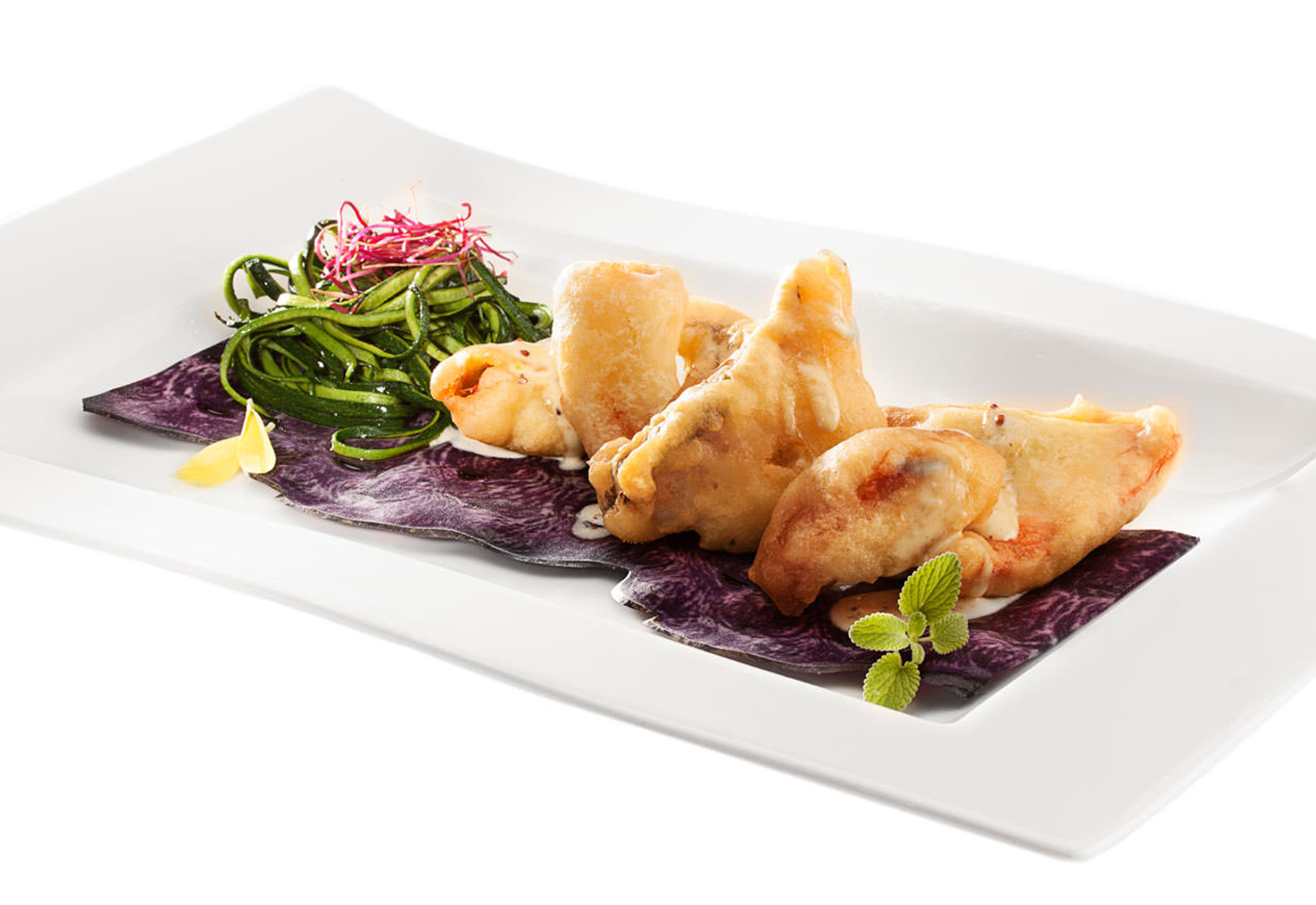 Ingredients (serves 1)
For the batter:
50 g of our for deep frying ·
20 ml of sparkling water · 2 g of salt · 1 egg yolk
Fish:
70 g of lavarello fillet · 50 g of perch fillet · 70 g of lucioperca (pike) fillet · 80 g of salmonated trout fillet ·
40 g of agone (lake shad) fillet
For the broccoli purée:
50 g of broccoli
15 g of chopped scallion
20 ml of extra virgin olive oil
For the mustard dressing:
1 egg yolk
20 ml of water
25 g of rustic mustard à l'ancienne
50 g of melted butter
20 ml of Sherry vinegar
salt and freshly ground pink pepper
Procedure
Prepare the batter: mix the our, the egg yolk, the water, and a pinch of salt together in a bowl with a whisk, until you get a smooth and even mixture. Cover it with plastic wrap and let it rest in the fridge for 20 minutes, adding a few ice cubes.
Prepare the broccoli purée: take the broccoli tips and cook them for 3 minutes in salted boiling water, then drain them, keeping a few spoons of the cooking water aside. Fry the chopped scallion in an anti-stick pan with some oil. When it has cooked down, add the broccoli and let them cook for 5 minutes to develop avor, then transfer everything into a container and blend with an immersion blender. If necessary, add the cooking water to get a creamy mixture. Prepare the mustard dressing: heat the vinegar and the mustard in a small saucepan with a dash of pink pepper and a large pinch of salt. Mix together the egg yolk and the water in a bain-marie bowl, then add the vinegar and the mustard, always stirring with a whisk. Place the bowl over a small pot of boiling water and mount the dressing. Finally, incorporate the butter. Cook the sh: heat a casserole or a pan with plenty of oil and bring it to about 170°C. Dip the sh llets in the batter, drain them for a few seconds and then place them directly in the boiling oil to fry until they become crispy and golden brown.