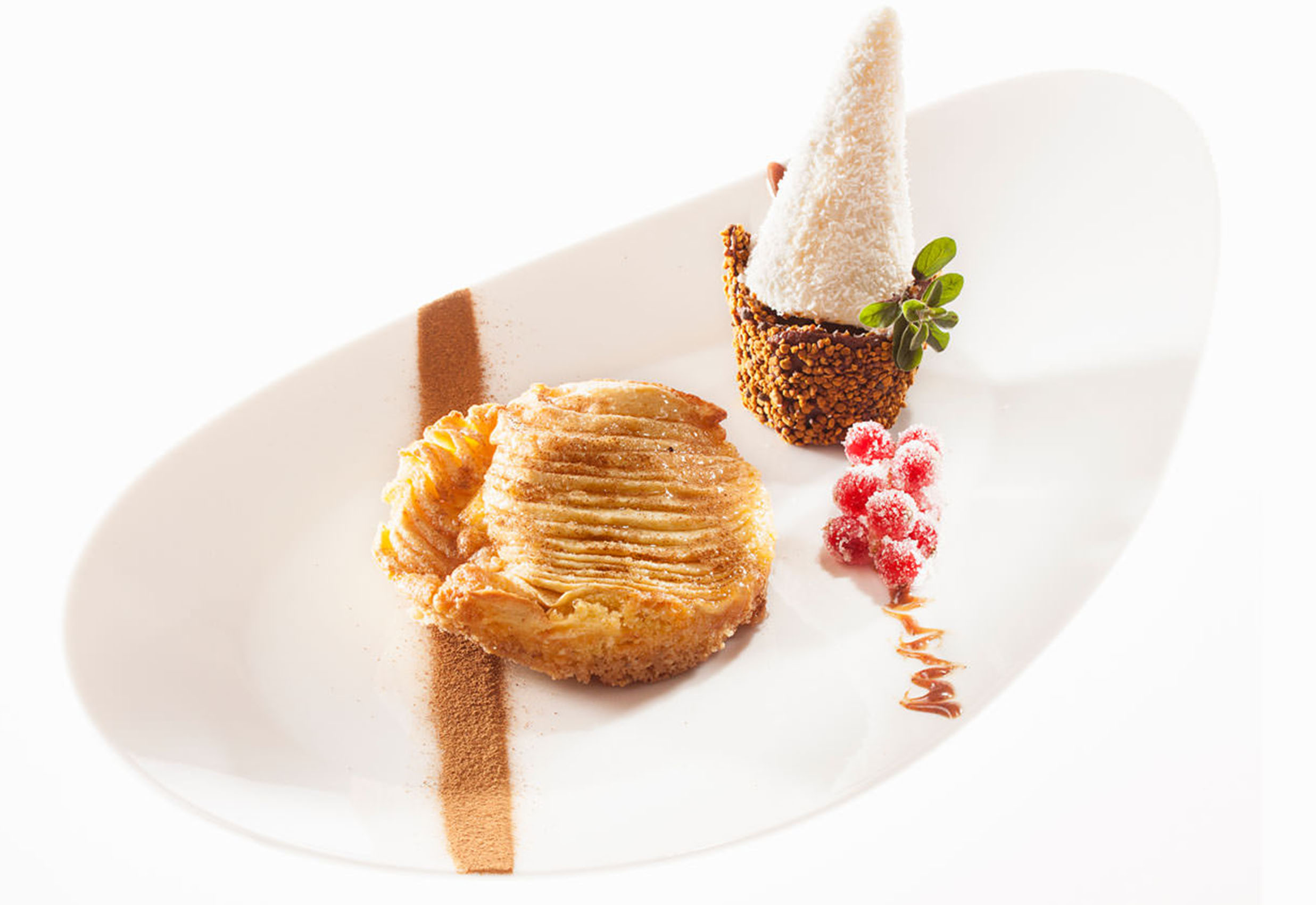 Ingredients (serves 4)
For the tartlet:
125 g of butter
100 g of confectioner's sugar
3 eggs
200 g of all-purpose our
1⁄2 packet of vanilla- flavored baking powder
100 g of corn starch
400 g of Golden Delicious apples 50 g of hazelnut meal
50 g of brown sugar
ground cinnamon
For the berry sauce:
200 g of mixed berries (strawberries, currants, raspberries)
100 g of granulated sugar
For the ice cream:
250 ml of whole milk
100 g of grated coconut pulp 125 g of re ned sugar
250 ml of heavy cream
Procedure
Prepare the ice cream: heat the milk in a casserole, add the grated coconut pulp and the re ned sugar. When it starts to boil, take it off the heat and let it cool, add the pasteurized heavy cream and pour the mixture into the ice cream machine and follow its instructions.
Prepare the tartlet: use a stand mixer to beat together the butter, the confectioner's sugar and the baking powder, until you get a white mousse-like mixture. Then add the eggs and, little by little, sift in and incorporate the our and the corn starch. Continue to stir until all the ingredients are well blended.
Butter some tartlet molds. In a small bowl mix together the hazelnut meal, the confectioner's sugar and a pinch of cinnamon. Use this mixture to ' our' the buttered molds.
Put the butter and egg mixture into a pastry bag with a at tip attached and distribute it on the bottom and along the borders of the molds. Peel the apples, remove the cores, and cut them into thin slices. Distribute the apple slices in the molds, pressing them down well. Sprinkle the hazelnut meal, sugar and hazelnut mixture on top
and bake in the oven at 180°C for 25-30 minutes.
Prepare the berry sauce: wash the berries and remove any remaining stems and pits, then put them in
a sauce pan with the sugar and heat them up. Bring to a boil and, when the sugar is completely melted, blend everything using an immersion blender until you get a sauce that is smooth and even.
Plate the dish: serve the tartlet with a scoop of ice cream and garnish with a little berry sauce.
Wine
Apple, hazelnut, and cinnamon here become a harmonious whole, enhanced by the aroma of coconut. This calls for a sweet wine, one that is medium- bodied and that has good acidity, such as Albana di Romagna Passito.