Cornmeal and salt baked potato ravioli filled with brook trout and shrimp fished in our-streams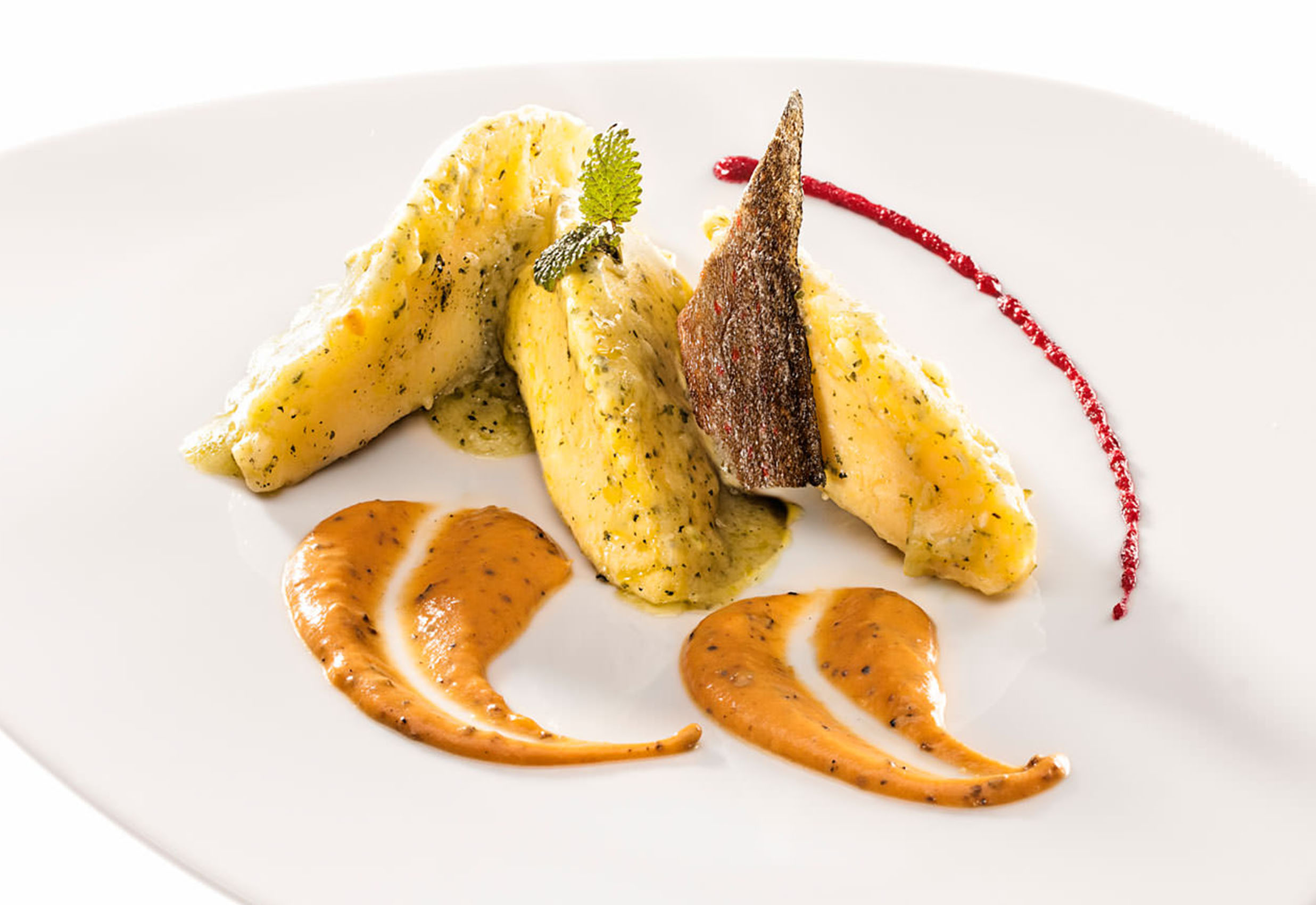 Ingredients (for 1 person)
For the stuffing:
3 crayfish
35 gr of char fillet
5 gr of chopped hazelnuts with a knife
10 gr of chopped shallot
1 sage leaf
10 gr of fresh cow cheese
10 ml of extra virgin olive oil
10 gr of butter
30 gr of lemon balm butter
salt and whipped pepper
For the beetroot pesto:
15 gr of cooked beetroot
15 gr of extra virgin olive oil
salt and pepper
For the pumpkin cream:
50 gr of pumpkin
50 gr of yellow potatoes
5 ml of cream
10 gr of Scorzone truffle butter
Development
For the filling: pour the oil and butter into a pan with the shallot, hazelnuts and sage. Then add the diced char. Blanch the whole shrimp for 5 minutes in boiling water, then drain, peel them completely and add them to the char. Cook for about 3 minutes. Remove the pan from the heat, add the fresh cheese and mix.
For the ravioli: put the corn dough on a work surface sprinkled with cornstarch and roll it out with the help of a rolling pin until it is 5 mm thick. With a pastry cutter with a diameter of 8 cm, make some discs. Distribute the filling inside each disc and close in a crescent, pressing well. Decorate the edges with a fork and make the finished ravioli stand upright on the plate.
Cook the ravioli in abundant salted boiling water for about
5 minutes, then drain them with the help of a slotted spoon and transfer them to a pan in which you have melted the emulsified lemon balm butter with a few tablespoons of the ravioli cooking water.
For the beetroot pesto: cut the beetroot into cubes, pour it into a blender jar and add the oil. Blend for a minute.
For the pumpkin cream: place the pumpkin in the oven without removing the seeds at 150 ° C for about 2 hours, then remove the seeds and transfer the pulp to a saucepan with the cream, a pinch of salt, a sprinkling of pepper. , a drizzle of oil and, if necessary, a spoonful of vegetable broth. Cook until creamy, then garnish with a teaspoon of Scorzone truffle butter.
Plate: transfer the ravioli on the plate together with their sauce, garnish with the beetroot pesto and the pumpkin cream with truffles.